Adjustable Flexing Headrest on all
NEW & Factory Refurbished Perfect Chairs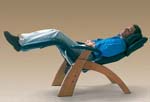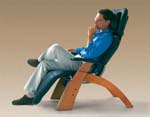 PC-6, PC-8, PC-085 Electric, PC-075 Electric and PC-095 Electric Perfect Chairs

human touch®

Perfect Chairs

PC-086 Serenity Perfect Chair from Human Touch.

"Chair is sooooo comfortable. thank you for sending it so quickly" - Alex A.
"I just wanted to offer a little praise and feedback! I had been shopping around for this chair for some time and am very pleased with not only the price but the quality of the refurbished chair I received through you. It's wonderful, your service and delivery are fantastic. I wouldn't hesitate to order from you again. Thank you" - Beth S.
"Excellent transaction, WOW Can't tell the difference between Refurb and New." - Daniel L., Texas
"Nice chair, looks totally new to me. Perfect Chair is great." - Noah K., Virginia
"This refurbished Perfect chair is great. Just like a new one." Susie K., Washington
"I LOVE THIS CHAIR!" - Leslie S.
"I received the green leather Perfect Chair this morning. Its condition was quite acceptable. I think I will be quite happy with the chair. There were only a few relatively inconspicuous scratches on the wood. I think I will be able to blend them into the finish with a little effort. Your's truly, Norm C."
"Great Chair/"perfect" in every way ...." Richard B.
"You've got to get one of these chairs! Like new! Fast shipping too. Great ..." Chris S.