Adjustable Flexing Headrest on all
NEW & Factory Refurbished Perfect Chairs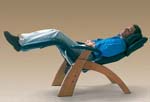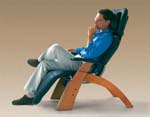 PC-6, PC-8, PC-085 Electric, PC-075 Electric and PC-095 Electric Perfect Chairs

human touch®

Perfect Chairs
Manual or Electric Recline Perfect Zero Gravity Recliner / Chair - Classic II The zero gravity position cradles your back and elevates your legs above your heart, which is the position that doctors recommend as the healthiest way to sit. Easy ingress and egress are achieved with the extended range of motion in the upright position. Exclusive Features Patented Orthonomic™ body frame with built-in lumbar curve. Extra wide legrest provides maximum comfort. The hand carved and finished base is pleasing to the eye, and constructed for years of use. The brake control system is easy to use and extremely reliable. Wedge-shaped, adjustable headrest cushion provides comfort for your head and neck. The adjustable headrest feature allows you to customize the optimum angle of comfort to maximize neck support while reading or watching television. Exclusive guide rail system for smooth recline motion and position control. Only PC-6 Manual Recline Perfect Chairs can add an optional Extending Footrest. Only PC-6 Manual, PC-9 and PC-095 Electric Perfect Chairs include the adjustable Air Bladder Lumbar Pillow and smaller Neck/Head Pillow.

"Chair is sooooo comfortable. thank you for sending it so quickly" - Alex A.

"I just wanted to offer a little praise and feedback! I had been shopping around for this chair for some time and am very pleased with not only the price but the quality of the refurbished chair I received through you. It's wonderful, your service and delivery are fantastic. I wouldn't hesitate to order from you again. Thank you" - Beth S.

"Excellent transaction, WOW Can't tell the difference between Refurb and New." - Daniel L., Texas

"Nice chair, looks totally new to me. Perfect Chair is great." - Noah K., Virginia

"This refurbished Perfect chair is great. Just like a new one." Susie K., Washington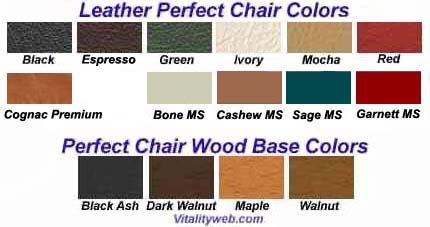 ELECTRIC RECLINE PERFECT CHAIRS: By simply touching a switch, the Perfect Chair gently takes you into the full recline position. It feels like you are floating through the air. You can effortlessly return to the upright position, which is a feature back pain sufferers will really appreciate. The system is so precise you can set the chair in the perfect position for you, "all at the touch of a button". Chairs are packed for shipping and require assembly. High performance, whisper quiet motors take the chair from upright to full recline in less than 15 seconds. Engineered for performance. Factory Refurbished Electric PC-P3B and PC-W3G Perfect Chairs have the switch on the wood base. Newer PC-9 and PC-095 Electric Perfect Chairs have the handle switch on the end of the armrest.

FREE PICK-UP AT OUR SAN DIEGO SHOWROOM!!


New Perfect Chair information and Pricing
The Perfect Chair Comparison Chart
PC-6 / PC-9 Model Perfect Chairs include an Large Air Bladder adjustable Lumbar/Headrest pillow and small nonadjustable Lumbar/Headrest pillow.
Only the Manual PC-6 Perfect Chairs have the option of adding the new Extending Footrest.
PC-P2B, PC-P3B, PC-W3G and PC-BP2BN include a Large Lumbar/Headrest Pillow without the adjustable air bladder and can not add the extending Footrest.
PERFECT CHAIR ACCESSORIES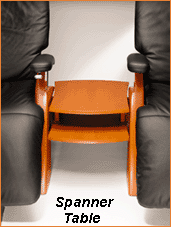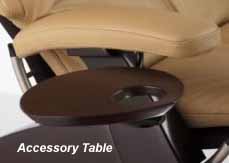 WHAT IS FACTORY REFURBISHED??
About IH Factory-Reconditioned Products: Chairs are classified as factory refurbished for many reasons and we do not know why each one has been classified as such. We take great pride in offering factory-reconditioned products that are as close to "new" as the factory can make them. Our factory-reconditioned products have undergone extensive testing and evaluation to make them as close to new as possible. All massage mechanism components have been replaced with factory-fresh parts. The upholstery is factory-fresh. When necessary, scratched parts have been replaced with factory-fresh parts, yet some minor blemishes are unavoidable. You can view some of our customer's feedback on these quality factory refurbished chairs below.
"I just wanted to offer a little praise and feedback! I had been shopping around for this chair for some time and am very pleased with not only the price but the quality of the refurbished chair I received through you. It's wonderful, your service and delivery are fantastic. I wouldn't hesitate to order from you again. Thank you" - Beth S.
"Great chair!! I'm impressed!! It was "factory refurbished" but it seems new!!" - David S.
"Chair is sooooo comfortable. Thank you for sending it so quickly" - Alex A.
"I LOVE THIS CHAIR!" - Leslie S.
"I received the green leather Perfect Chair this morning. Its condition was quite acceptable. I think I will be quite happy with the chair. There were only a few relatively inconspicuous scratches on the wood. I think I will be able to blend them into the finish with a little effort. Your's truly, Norm C."
"Great Chair/"perfect" in every way ...." Richard B.
"You've got to get one of these chairs! Like new! Fast shipping too. Great ..." Chris S.
*WARRANTY INFORMATION:

New and Factory Renewed Series 1 Perfect Chairs (PC-6, PC-075 and PC-095) include a 1 year limited warranty. The Chair Frame and Structure are covered for one year from the original date of purchase. Parts are covered for one year from the date of purchase. Optional Extended Warranties can be purchased for a In-Home Parts and Labor service warranty of 2 or 5 years from the invoice date. The warranty is not valid if the product has been misused or damaged in any way that is beyond the control of the manufacturer. The chair (or parts) will need to be returned to the manufacturer for service by technicians. Chairs are packed for shipping and require assembly. Detailed Warranty information.
Refurbished Chairs include a 90 Day Parts Warranty. Parts are covered for 90 Days from the original date of purchase. Optional Extended Warranties can be purchased for a In-Home Parts and Labor service warranty of 2 or 5 years from the invoice date. The warranty is not valid if the product has been misused or damaged in any way that is beyond the control of the manufacturer. The chair (or parts) will need to be returned to the manufacturer for service by technicians. Chairs are packed for shipping and require assembly. Detailed Warranty information