Compare at $65 $49.95


A Cross-Section View of the Mediflow / Chiroflow Waterbase Pillow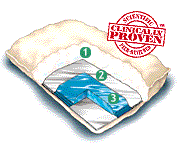 Outer Fabric A high quality percale fabric made of a durable 50/50 poly/cotton blend.
1. Polyester Fiber A layer of soft hypo-allergenic fiber floats on top of the water layer for outstanding comfort.

2. Thermal Insulator An essential component that prevents heat loss from the head and neck to the water layer.

3. Water Layer A thin water-filled pouch is positioned at the base of the pillow for responsive head and neck support.
Research Study on the Mediflow pillow.
The Most Comfortable Pillow You Will Ever Sleep On.
Instantly Adjusts To Any Sleeping Position. You can change the firmness by the amount of water added, just like a waterbed.
Supports the Cervical spine ideally.
Clinically proven to help naturally relieve neck pain caused by arthritis, stress or injuries.
The water pillow is surrounded by an Extra Soft Layer of Polyester fill to make it perhaps the most comfortable pillow ever. Every person's anatomy is slightly different. People have different preferences about the firmness of their pillow. On average, there are 12 major body shifts and 50 movements in head and neck position during sleep.
The Mediflow WaterPillow, with its advanced engineering:
Adapts to different anatomical shapes and sizes.
Allows you to personalize the level of support you want.
Easy to follow instructions tell you how much water to add for soft, medium and firm support.
Use ordinary tap water.
Instantly Responds to changes in sleeping position.
The layer of soft polyester fiber positioned on top of the water layer creates a very comfortable pillow.
Is made with your sleeping comfort in mind.

Home | Product Index | Ordering information