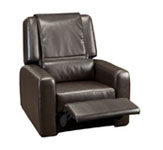 NEW HT-3010 Human Touch Home Massage Chair / Recliner - Work. Traffic. Lifting that heavy box on the top shelf in the garage. The dog eating your tax refund. Itís impossible to control all of lifeís stress, but you now have full control of a great way to alleviate it. The HT-3010 Massage Chair makes it easy to customize its every movement to satisfy your every whim. The HT-3010 massage is designed to be both strong and sensitive to melt away muscle soreness providing a revitalizing, therapeutic massage with just the touch of a button.
Click Here for More Massage Chairs

*WARRANTY INFORMATION: New HT-3010 Signature massage chairs have a "3/2/1" Year Factory Limited Warranty. The HT-3010 massage chairs come with a manufacturer's three-year limited warranty against Structural defects (Frame only - cosmetics are not covered). Parts are covered for two years from the original date of purchase. In Home Factory Service (All 50 US states and most major cities in Canada) is covered for one year from the date of purchase and can be extended with an extended warranty. Refurbished Massage Chairs have a 90 Day limited residential use warranty for parts only. The warranty is not valid if the product has been misused or damaged in any way that is beyond the control of the manufacturer. Chairs are packed for shipping and require only very minor assembly. (Basically just unpack and ready to use.) Extended warranties are available on New Massage Chairs.

More Detailed Human Touch Warranty Information here.

†† ††
†††† †††† †††† †††† ††