SeaHawk and Mariner Inflatable Boats / Rafts
The SeaHawk II and Mariner Inflatable Boats are constructed of rugged SUPER-TOUGH™ PVC. SUPER-TOUGH™ PVC is an extremely strong and durable plastic material that is impervious to gasoline, oil and salt water. The strong molecular structure of this plastic makes it highly resistant to damage from abrasion, impact and sunlight. This special PVC plastic material also allows more air pressure for greater rigidity while maintaining the PVC material's natural flexibility.
FOUR PERSON MARINER BOAT FEATURES:
Two Boston valves for quick-fills & fast-deflations.
The keel is inflatable; this results in improved control and handling.
A durable rock guard lines the circumference of the hull above which an all-around nylon grab line circles the upper hull
Floor is made of heavy duty extruded plastic for comfort & rigidity.
Includes motor mount fittings for the optional motor mount and convenient oar holders.
Includes Two 54" deluxe aluminum boat oars.
Includes three inflatable seat cushions.
Includes one high-output manual pump.
Includes one gear pouch.
Includes one battery pouch.
Includes two attached rotationally oar locks.
Includes two fishing rod holders.
Includes two heavy duty grab handles (bow & stern.)
Includes One repair patch-kit.
US Coast Guard ID RWTUV Approved.
22 GA (0.56 mm) Thick PVC Vinyl
Dimensions: 130" x 56" x 18.5"
Weight Capacity to 704 lbs with 4 persons
90 Day Factory Replacement warranty for USA orders only.
NMF Class 125
Ship Weight: 96 lbs
Inflatable Challenger Kayaks
Mariner Inflatable Sport Boat - Includes Hand Pump and Aluminum (Al) Oars
Challenger Inflatable Boats and Sets - Yellow
SeaHawk Inflatable Fishing Boats - Green
Accessories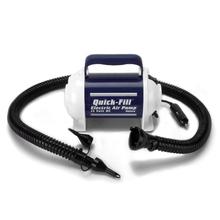 Quick Fill Air Pump - Works for both inflation and deflation Accordion hose has 3 nozzles sizes Plastic case with built-in carry handle. Choose from a 12-volt DC or 120V AC (wall) unit. 12-Volt DC Electric pump plugs into cigarette lighter and includes 9-ft. power cord. The 120V AC Electric pump plugs into a standard wall outlet. SUPER 120V AC Quick Fill pump pumps 95% more air than the standard pump.
Ordering information.

Home | Product Index | Ordering information