Factory Refurbished HTT-7 / HT-070 Human Touch Home Massage Chair by Interactive Health
Includes One Year Manufacturer's Limited Warranty*

---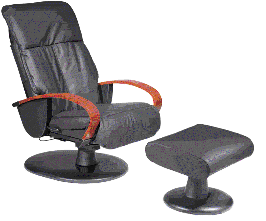 Compression
A unique combination of alternating strokes and pressing on the spine.

Kneading
Ease soreness and work out the "knots" with a deep kneading massage.

Percussion

Feel invigorated by the sensation of hands rapidly tapping on your back muscles.

Rolling
Feel the tension dissolve with the gentle rolling massage. Indulgence should be a virtue.
Factory Refurbished HTT-7 Human Touch Home Massage Chair / Recliner by Interactive Health with Foot Ottoman- Our most affordable luxury massage chair is here. Introducing the HTT massage chair with Human Touch Technology™ inside. It's the perfect combination of performance, comfort and value, with all the quality you expect from the leading massage chair company. And, it's the first massage chair to receive a medical endorsement and includes a Manufacturer's Limited warranty*. Extended warranties are available on new chairs.
The HTT.7 incorporates Human Touch Technology™, the robotic massage system that emulates techniques used by massage and chiropractic professionals for back and spinal care. Human Touch Technology starts with a multi-patent pending mechanism that works like "wrists and arms." Then we added "the hands" -- massage discs that move three-dimensionally. The result is a robotic massage that feels remarkably human. Four massage functions to choose from. Our researchers carefully studied techniques used by massage therapists, chiropractors, physicians and other healthcare professionals to develop the most effective massage functions. The HTT-7 offers rolling, kneading, precision, and our exclusive compression function preferred by doctors. The HTT-7 is so effective that medical professionals recommend it. In fact, the HTT-7 recently received an endorsement from the American College of Chiropractic Orthopedists (ACCO), a most distinguished group of chiropractors.
The rich-looking HTT.7 is upholstered in a soft and supple material that looks, feels and is as durable as leather. The sophisticated yet practical design accents any decor. A perfect addition to your home, office or both. Interactive Health is dedicated to building only top-quality products. The HTT.7 is rugged in construction and maintenance free.
Factory Refurbished HTT-7 massage chairs include the foot ottoman as pictured above and a Manufacturer's Limited Warranty*. Choose from Black with wood armrests (pictured above), Black with black padded armrests (HTT-7 "S" Model) or Dark Brown.
NEW HTT-7 MASSAGE CHAIRS INCLUDE SHIPPING AND SALES TAX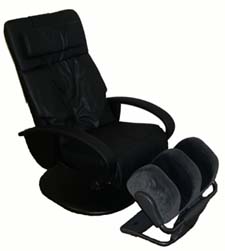 USA Curbside Freight Ground Shipping is generally from $95-165
COMPLETE IN FACTORY SEALED BOX AND READY FOR SHIPPING!
FREE PICKUP IN SAN DIEGO!!

Also Available: HTT-7, HTT-9, HTT-10, EMS 9, RMS 11, Perfect Chairs
Click Here for More Massage Chairs

Massage Chair comparison Chart

NEW OTTOMAN and OTTOMAN 2.0 (pictured to left) Robotic Calf & Foot Massage - Human Touch Technology® is Interactive Health's next generation of robotic massage technology. Developed in cooperation with the medical community, this technology delivers a completely new level of massage functionality, emulating the techniques used by chiropractors and massage therapists. Add to any chair to get the same foot/calf robotic massage as the new HTT-10 Massage Chairs!!
Click Here for Ordering Information.
WHAT IS FACTORY REFURBISHED??
About Interactive Health Factory-Reconditioned Products: Chairs are classified as refurbished for many reasons and we do not know why each one has been classified as such. Be rest assured that these are NOT worn out, tired or destroyed chairs. We take great pride in offering factory-reconditioned products that are as close to "new" as the factory can make them. Our factory-reconditioned products have undergone an extensive testing and evaluation process by the factory (not a reseller). All massage mechanism components have been replaced with factory-fresh parts. Upholstery is factory-fresh. Where necessary, scratched parts have been replaced with factory-fresh parts, but some minor blemishes are unavoidable.
*New HTT-7 massage chair comes with a limited one-year warranty against mechanical defects (cosmetics are not covered). Parts are covered for one year from the original date of purchase. Parts and Labor are covered for 90 days from the date of purchase. Factory Refurbished Massage Chairs have a 90 Day limited residential use warranty for parts only. The warranty is not valid if the product has been misused or damaged in any way that is beyond the control of the manufacturer. The chair (or parts) will need to be returned to the manufacturer for service by technicians. Chairs are packed for shipping and require minor assembly. Extended warranties are available. More Warranty Information.