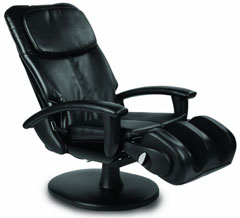 NEW HT-3100 Human Touch Home Massage Chair / Recliner - Work. Traffic. The dog eating your tax refund. It's impossible to control all of life's stresses, but you now have full control of a great way to alleviate it. The Human Touch® HT-3100 WholeBody® massage chair makes it easy to customize its every movement to satisfy your every whim.
Beauty goes well beyond skin-deep with the HT-3100. This remarkable chair contains the most advanced Human Touch Technology® in a sleek, colorful design that fits any room.
The HT-3100 WholeBody™ Massage Chair is built utilizing the multi-patented Human Touch Technology, approved by the World Federation of Chiropractic. Choose from three intelligently designed 15-minute massage sessions, lie back on the ergonomic headrest and let the patented human touch massage system™ rotating foot and calf massager kick all that tension and stress to the curb. WholeBody™ Massage Chairs contain all the advantages of Human Touch's Robotic Massage®, plus a suite of additional features designed to deliver a therapeutic massage. Incorporating patented Figure-Eight™ Technology, its proprietary mechanics uniquely drive its robotic rollers. This massage chair delivers a remarkably life-like massage that emulates the expert hands and techniques of highly trained massage therapists. The HT-3100 chair's foot and calf massager shares this exclusive patented engineering, delivering a massage that introduces oxygen-rich blood to the legs, reviving tired muscles. So sit back and relax. With the beautifully designed HT-3100 WholeBody™ Massage Chair, your comfort, stress and wellness are well under control.

Robotic Human Touch Massage Chair Comparison Chart
The HT 3100 Massage chair offers a combination of our patented Human Touch Robotic Massage Technology™ with a comfortable design and a classy, elegant look. We've even taken the pain out of choosing which massage is right for you. Select from Sore Muscle Relief, Stress Therapy or Back Wellness for a 15-minute program that combines expert massage techniques to treat your specific needs and desires.
Sore Muscle Relief - Revitalizes the body while soothing sore and aching muscles.
Back Wellness - Keeps aches and pains at bay with a custom massage that melts away lumbar soreness and tension.
Stress Therapy - Refreshes the senses by easing away hard-to-workout knots and kinks.